Introducing 2018-2019 Officers
Spring Quarter marks the coming of the end of the school year, which means we have new officer elects and the Actuarial Banquet coming up! Without further ado, your next year's officers will be:
–Permoon Hussaini (President)
–Xinyuan Zhang (Vice President)
–Sukanya Joshi (Treasurer)
–Ming Yi (Secretary)
–Ariel Huang (Exam Coordinator)
–Wenjing Li (Journalist)
–Doris Yasmina Padilla (Journalist)
–Martina Rosen (Community Director)
---
Actuarial Association Banquet
As for the banquet, every year we hold a formal dinner with students and faculty so they can talk to one another while eating good food in a fancy place! Attached are more details on the event and a link to RSVP. More info will be posted closer to the event!
Please RSVP in the link below:
---
Actuary Day
Come join the Actuarial Association at Actuary Day! We are delighted to have 3 distinguished guest speakers attending this year. Dress code is business professional, we hope to see you there!
Date: Apr 20, 2018 (Fri) 
Time: 1-4:30pm
Location: Marine Science Research Building (MSRB) 1302
Link to Our Facebook Event Page:
https://www.facebook.com/events/283377145534881/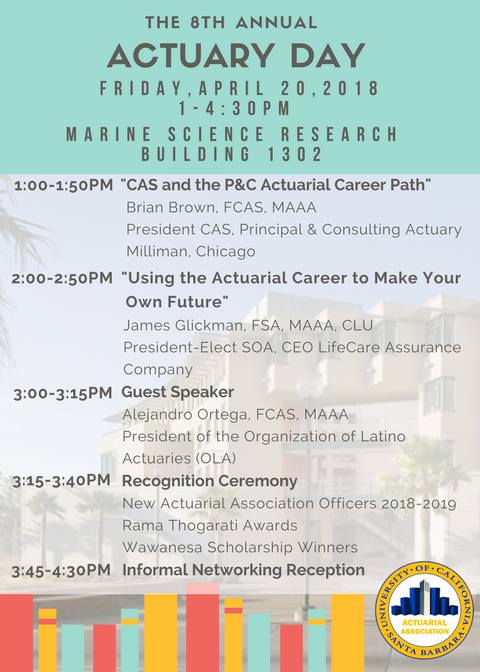 ---
SQL de Mayo Workshop 
Data Science at UCSB, Actuarial Association, FACTOR(Female Actuarial Organization), and FAME(Financial Analysis and Management Education) presents our Spring 2018 SQL Workshop on May 5th from 9:30am to 3pm. There will be two parts to our workshop. You can attend either the Part I (Beginner), Part II (Intermediate), or both. 
Date: May 5, 2018 (Sat)
Time: 9:30am-3:00pm
Location: Data Science at UCSB, Ocean Road
If you are interested in attending, please apply at the link below (as soon as possible): 
https://goo.gl/forms/um8ttP5LVpuxhEyj1
Link to Our Facebook Event Page:
https://www.facebook.com/events/1843384179287866/

---
Actuarial Exams
Hi everyone! Below are the following:
1) Updated ASA requirements, including new exams and new VEES
https://secure.lsit.ucsb.edu/stat/d7/undergrad/actuarial-science/exam
---
Actuarial Association T Shirts
Make sure to pick up your Actuarial Association T-shirts at the PSTAT Department if you ordered one! They will be in Jerry Chung's Office. Make sure to pay for your shirt when you pick it up! ****Venmo preferable.****
A little Reminder:
– Custom Shirts are $25
– Normal Shirts are $20
If you didn't place an order and still want to buy a t-shirt, you can go still go to the PSTAT department and pay for one there.