Events for Fall 2017
Hey, hopefully everyone is doing well in studying for finals!
Here's the events that are planned for the Fall quarter 2017, remember to save the date!
Please note that the Actuarial Career Fair will also be held in Fall Quarter.
For more information regarding the Career Fair, please go to the link below:
http://www.pstat.ucsb.edu/ActFair/ActFair2017.htm

Actuarial Association Feedback Session
Come and provide feedback about this year's events and club as a whole. This is a chance to offer suggestions for next year, and vote to amend the Constitution.
Also, PIZZA IS PROVIDED!!!
Let us know if you're coming, here's the Facebook link:
https://www.facebook.com/events/1654535181240854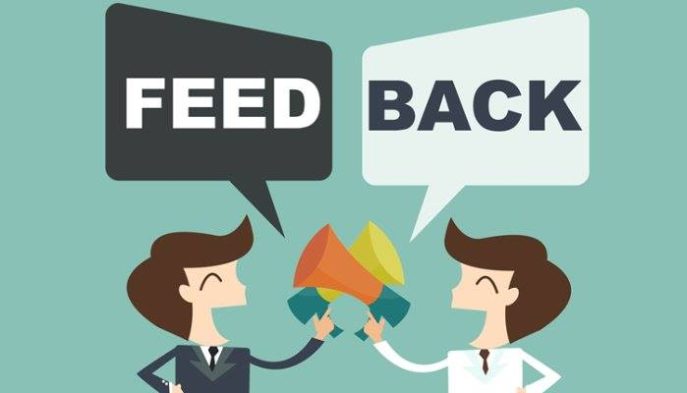 ---
Guest Speaker: Jeff Passmore
Hi everyone! Join us as Jeff Passmore, an Investment Actuary, talks about "The Coming Financial Security Crisis and How Actuaries Will Be Part of the Solution". Jeff will cover some current trends that will undermine finiancial security in the US and discuss some solutions and the roles that actuaries play, such as:
1) Aging of population
2) Under-funding of Social Security and Medicare Benefits
3) Trend of reducing/ eliminating corporate pension plans and retiree medical benefits in favor of Defined Contribution plans
4) The poor funded status of Public (state and municipal government) pension plans.
Please let us know if you're coming, here's the Facebook link:
https://www.facebook.com/events/1761774270780119/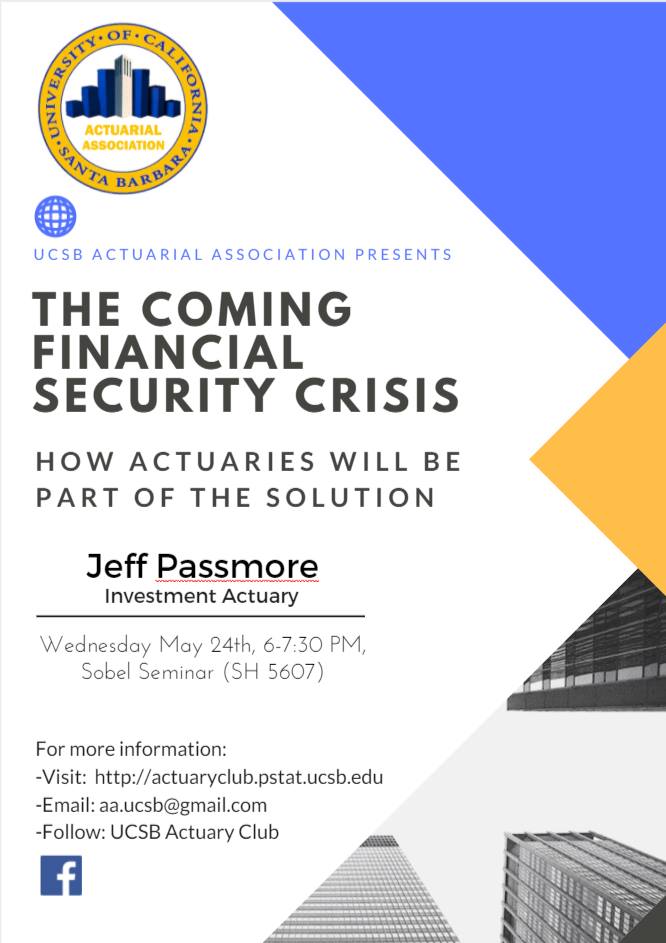 ---
Actuarial Association Farewell BBQ
Hey everyone, come join us at the BBQ event on next Saturday, May 27 at 11 AM – 2 PM at Goleta Beach. We will be having fun with food, social and games there. Hope to see you all there.
Let us know if you are coming, please let us know, through Facebook link:
https://www.facebook.com/events/735112916671225/
And also RSVP through the link below (this link is also shown in the Facebook event):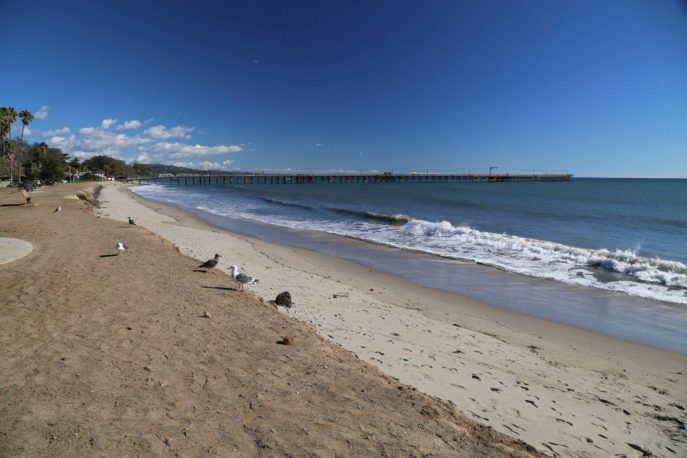 ---
Information Session with John Alltop
Come join us by listening to guest speaker John Alltop talk about his work as Chief Actuary and giving an explanation of Excess Insurance!
John Alltop is Chief Actuary at CSAC Excess Insurance Authority. John has 27 years of experience in the actuarial field, primarily in the casualty area, and has been a consultant since 1998. John brings extensive knowledge of insurance, underwriting, and claims operations to his work. He has been a member of the Casualty Actuarial Science Reinsurance, Ratemaking, and Reserving Committees.
Please let us know if you're coming to the event through this Facebook link:
https://www.facebook.com/events/217745562059074/

---
UnitedHealth Group Info Session
Please join us in welcoming Crystal Lassegard, FSA, MSAA, with UnitedHealthcare for an info session next Monday, May 15th, from 11am-12pm in SH 5607F (Sobel Seminar Room).
Crystal, along with representatives from UHC, will present an overview of their company and speak about what they do, what their values are, and provide information regarding their actuarial internships. In addition, they will be available to take questions about actuarial careers in general.
Hope to see you there! So, let us know if you're coming, here's the Facebook link:
https://www.facebook.com/events/1388419774611372/

---
UPDATE: The time for Actuarial Association Banquet will start at 6:30PM (NOT 6:00pm)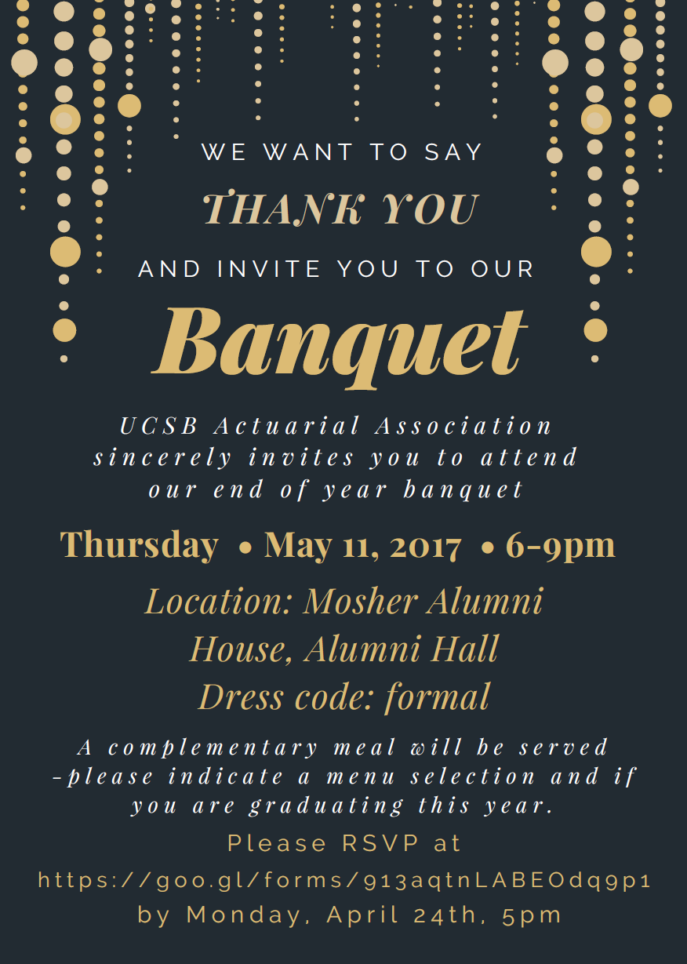 ---
Committee Day is coming up!
We have two open officer positions and there are committee positions available, we encourage you to apply for the officer and the committee positions to help building the future of Actuarial Association. We look forward to work together with you!
For more information regarding the positions available, please go to the link:
https://docs.google.com/document/d/1Uukb0O0DH1jaJbuGXdPXUQsfgO9HjbVmuAnkGwZ6UYI/edit

Here's the updated flyer for the rest of Spring Quarter 2017 (Save the Dates!)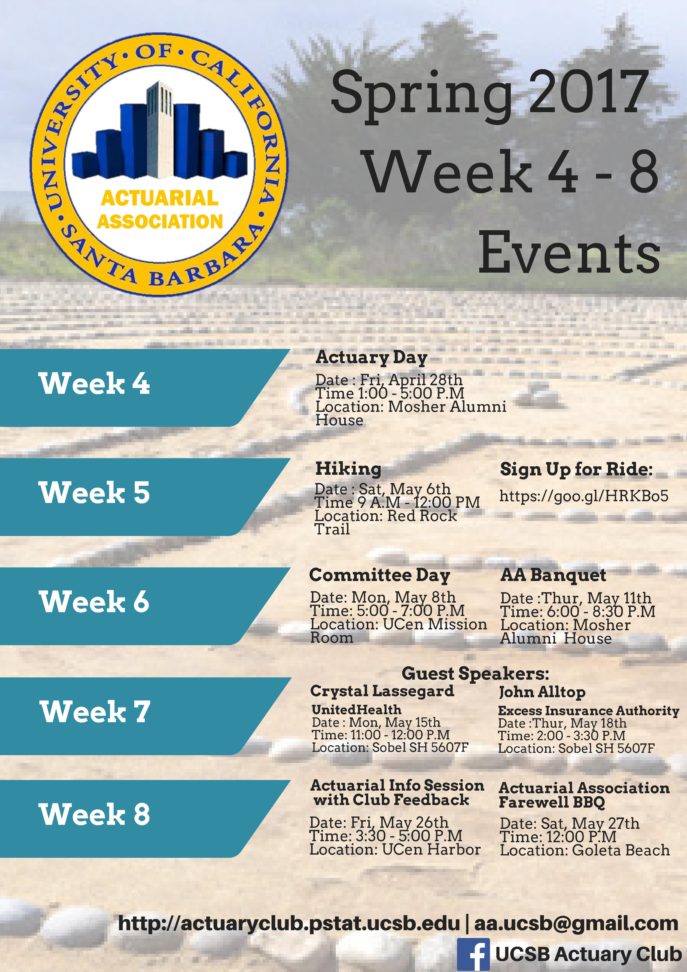 Look forward to these great Spring 2017 Events: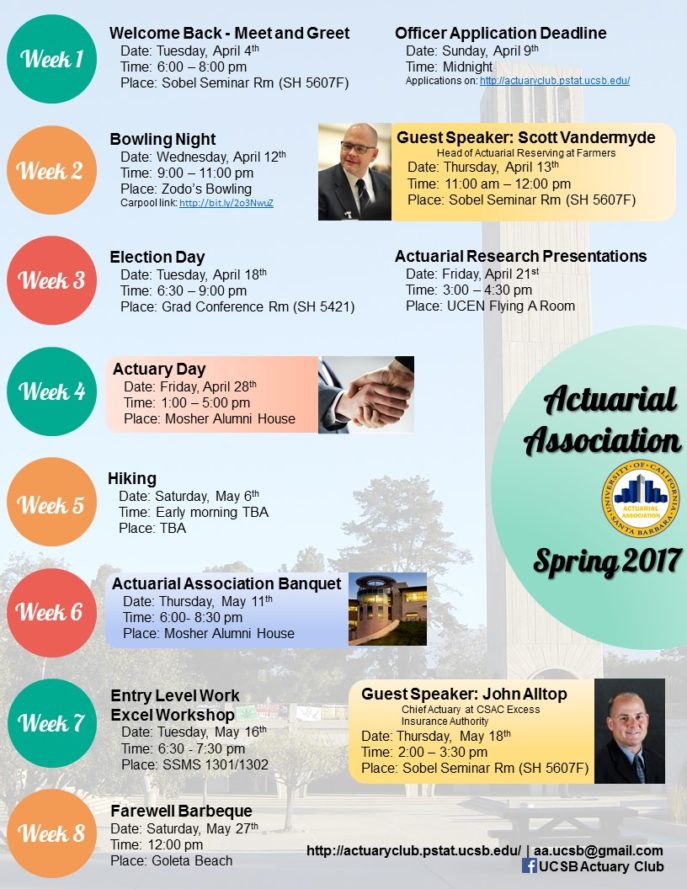 Upcoming Events (WEEK 5)
Hiking (5/6)
Join us for hiking on Saturday, May 6, 2017. We'll be hiking Red Rock Trail, a pretty short trail that has a pool that you can jump into! It's going to be fun!
Sign up here for ride shares: https://goo.gl/HRKBo5
About the Trail- 3.5 miles long each way for a 7 mile loop. Intermediate difficulty. The Red Rock trail follows the river and there are several large swimming holes along the trail. The most popular pool "Red Rock Pools" is 1/2 mile from the trailhead and can be crowded on weekends, there are more secluded pools are further up.
If you are sharing a ride we will be meeting at 8:50AM at the parking lot between San Rafael and the SRB before heading over.
Directions- From Santa Barbara Hwy 101, 10 miles NW on Hwy 154, 10 miles East on Paradise Road to the end of the road.
Past Events
Future Major Events (Week 4 Actuary Day)

Come out to our biggest event for Spring Quarter! Actuary Day is a 3.5 hour event where the university's actuarial science majors gather to hear from experienced guest speakers on actuarial related topics and network with the UCSB Actuarial Advisory Board which consists of many influential actuaries across the U.S.
This year there will be a presentation on "What an Actuary Can Do in an Insurance Company" from Jinjie Duan, FCAS, Head of Claims Actuarial & Advanced Analytics at Farmers Insurance Exchange, AND an exciting student project for you to do written by UCSB actuarial professors, Ian and Janet Duncan. It will be followed by a reception with refreshments. Everyone of all levels of experience and majors are welcome to join us on Friday, April 28th from 1:00 pm – 4:30 pm at the Mosher Alumni House, Alumni Hall!
%